Who we are
We are the electricity company of Grupo Argos that offers an innovative energy portfolio to cities, businesses and homes. We operate in Colombia, Panama and Costa Rica and have a generation capacity of 2.399 MW through 28 hydroelectric, thermal, solar and wind power plants, which generated 6.317 GWh in 2017.
Through Epsa E.S.P.(Empresa de Energía del Pacífico S.A. E.S.P.), we operate in Colombia in the departments of Valle del Cauca, Cauca and Tolima with 16 hydroelectric power plants.
Additionally, in Valle del Cauca, we have 84 substations, 20.473 km of distribution networks and 291 km of transmission networks, through which we provide electricity to more than 600.000 customers in 39 municipalities in Valle del Cauca and one municipality in Chocó (San José del Palmar).
For customer service in these two departments, we have a network of 28 service centers, more than 700 points of sale, 49 telephone service points and 11 virtual attention kiosks.
In the municipalities of Tuluá and San Pedro, Valle del Cauca, we have more than 60.000 clients through Cetsa E.S.P. (Compañía de Electricidad de Tuluá S.A. E.S.P.).
What we do
We offer the supply of electric power with quality and continuity, in the regulated and unregulated energy market, supporting the welfare of households and the productive processes of the industrial, commercial, agricultural and service sectors, among others.
At Celsia we have a broad portfolio of energy efficiency services to guarantee the energy savings of our customers. Efficient lighting for companies, urban projects or cities, thermal districts and specialized consulting of energy performance, are some of them.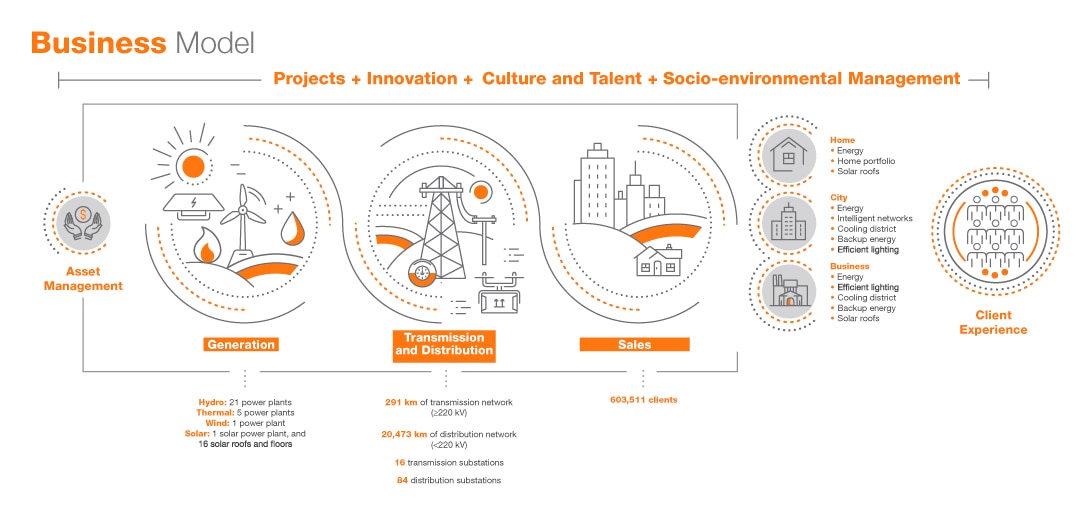 Medellín, Barranquilla, Barrancabermeja