Our company
Celsia is the Grupo Argos energy company, which is passionate about renewable energies and energy efficiency. We generate and transmit efficient energy from renewable sources with thermal backup.
We have found new ways of advising our clients, in order to connect their household, company or urban project and so that they can enjoy the benefits from the new era of energy.
We operate in Colombia, Panama, Costa Rica and Honduras and have a generation capacity of 1.810 MW through 28 hydroelectric, thermal, solar and wind power plants, which generated 5.625 GWh in 2019.
Actually, we serve more than one million customers in 39 municipalities of Valle del Cauca, 47 in Tolima and one in Chocó (San José del Palmar) with conventional energy products and other customers with new products such as solar energy, thermal districts, plants of backup energy, efficient lighting projects, among others.
To serve these 87 municipalities, we have 16 transmission substations, 168 distribution substations and more than 42,000 km of distribution networks.
For customer service in these two departments, we have a network of service centers, more than 5.000 points of sale, telephone service points and virtual attention kiosks.
Throughout the Organization, 1.900 employees experience Celsia's innovation and service culture, and make the sustainability principles a reality in all stages of the business.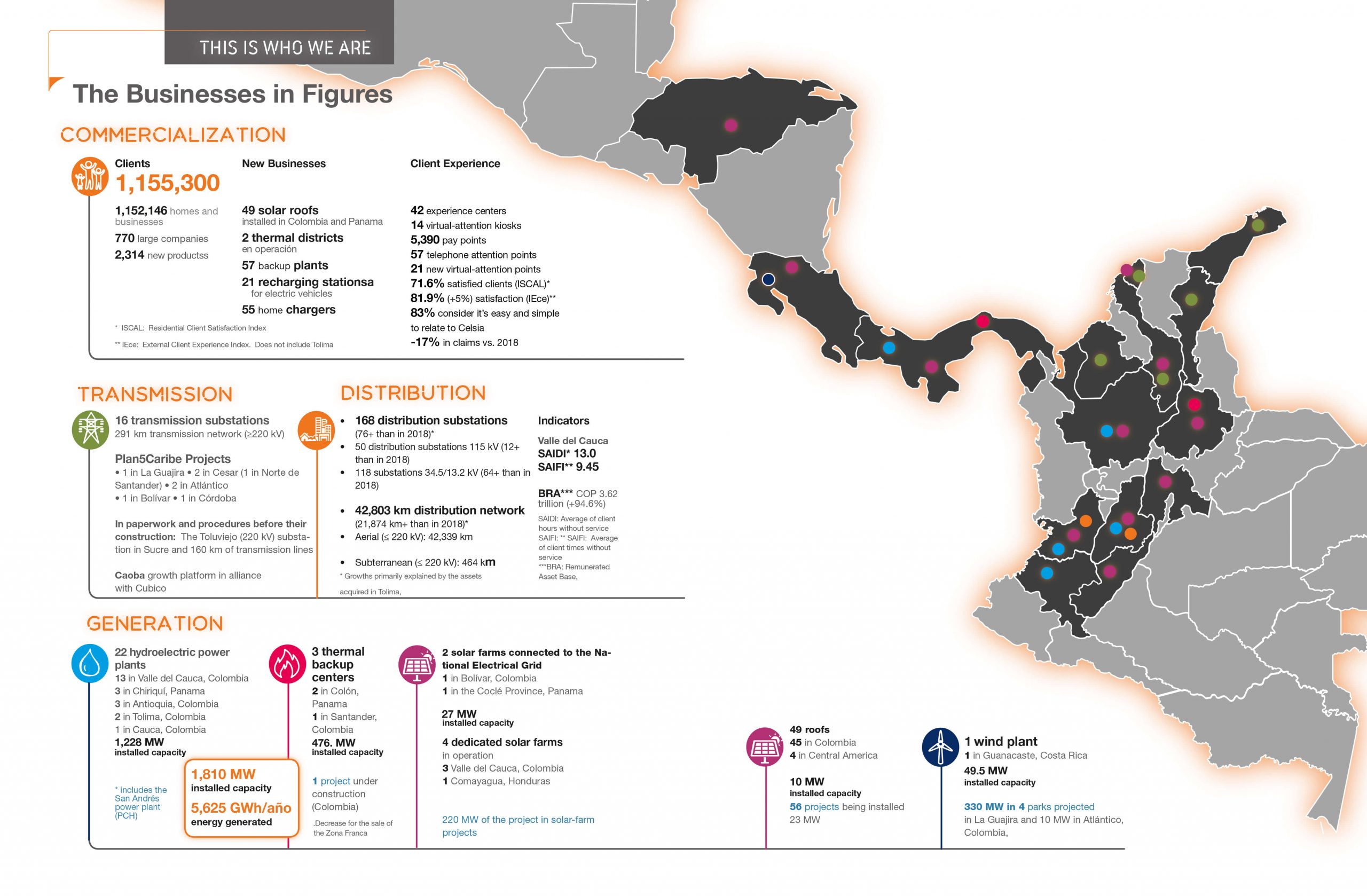 What we do
We offer the supply of electric power with quality and continuity, in the regulated and unregulated energy market, supporting the welfare of households and the productive processes of the industrial, commercial, agricultural and service sectors, among others.
At Celsia we have a broad portfolio of energy efficiency services to guarantee the energy savings of our customers. Efficient lighting for companies, urban projects or cities, thermal districts and specialized consulting of energy performance, are some of them.

Medellín, Barranquilla, Barrancabermeja